A team of UATH doctors on Tuesday successfully separated a set of conjoined twins at University of Abuja Teaching Hospital Gwagwalada.
Dr Olori Samson, one of the surgeons who carried out the operation, said the parents visited the hospital on June 11 following a referral from another hospital.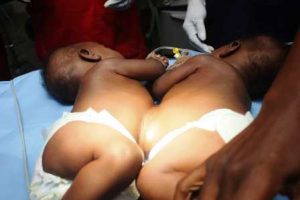 "On their arrival at our facility on June 11, 2018, having been referred from St. Mary Catholic Hospital, Gwagwalada where they were delivered through a Caesarean section, there were different hurdles. But the first hurdle was not on the surgery day but during the pre-surgery days. That is, making sure the babies were kept alive, which we delicately addressed.
"The other hurdles were anticipated based on our findings because after the initial clinical assessments, there were several CT scan investigations to determine the organs that were joined. So, we discovered their livers were joined.
"We had five sessions of all the teams coming together to plan and determine the best approach.
"We had anticipated the bleeding that would take place because the liver is one organ that you can't really tie.
"So, the hospital management provided some modern gadgets we deployed to make sure the surgery went well. It did go well as we contained the surgery of about five hours.
"With what we had available to us, we hadn't any fear that we would succeed in getting to the root of separating these babies," Mr Samson said.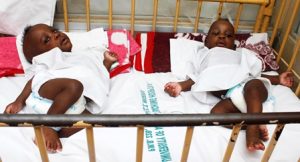 Speaking at a press conference in Abuja on Friday, the Chief Medical Director (CMD) of UATH, Bisallah Ekele, said the babies are in good condition.
"As we speak, today (Friday) is the fourth-day post-surgery. The babies are stable and in good conditions.
"We took a decision as to when the operation would be done considering the fitness of the babies and on 29th October, we went to theatre and after four and half hours, the corrective surgery was done," he said.
He said the surgery was carried out by two teams of paediatric surgeons, a team of plastic surgeons, two teams of anaesthetics, and specialist nurses.
The father of the twins, Ferdinand Ozube, said he is grateful for the assistance and care rendered to his family by the Hospital in its trying moment.
He said he had heard about and watched conjoined twins on television but never thought he would have them.